This offer is only a general information, we can adjust this tour to your requests. We are very much flexible and our driver/ guide during your trip will be at your disposal, suggesting the best to enjoy your Sicilian vacation.
DAY 1
Pick you up from Palermo airport and take to the hotel in the city. You will enjoy a pick up service with a english speaking driver and a sightseeing tour of the most important monuments in the Capital.. Overnight in Palermo.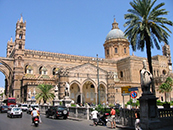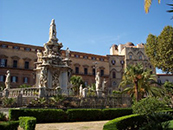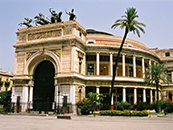 DAY 2
We will enjoy the full day exploring ERICE and SEGESTA. Driving to western part of Sicily, our first stop will be at the magnificent Temple of Segesta and the theatre, which is a typical example of the Greek semi circular theatre style. We then move on to the medieval town of Erice, situated 880 meters above the sea level. There you will stroll the village and taste the famous marzipan cakes made with almonds in different flavors. Overnight in Palermo.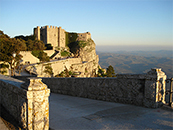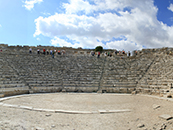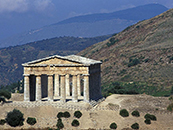 DAY 3
Pick you up from Palermo hotel, we will drive to Taormina, enjoying a full day tour. The first stop we visit Cefalu` and sightseeing the most important monument in this charming village: ôThe Duomoö and the mean historical area. We then drive to Agrigento to visit the Agrigento Temples ôValle dei Templiö and its unique largest museum in Sicily. We then finish our journey in the charming village of Taormina. Overnight in Taormina.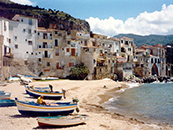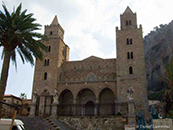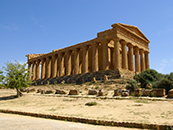 DAY 4
Pick you up from Taormina hotel to visit Castelmola, medieval hill town above Taormina with breathtaking sea and Etna views, then drive to arrive in Savoca. This is where Al Pacino and Cast shot the Godfather Film. There you can stop for a Lemon Granita at the famous bar "VITELLI", one of Coppola's favorite spots, and seen many times throughout the film. From Savoca we will visit Forza d'Agr˛ which is without a doubt one of the best examples of a typical village of the Province of Messina which still conserves its medieval street layout and on all sides of the town you have the most incredible views. We will then drive you back to your hotel. Overnight in Taormina.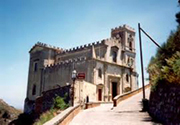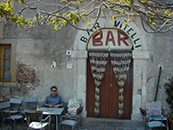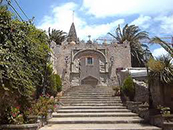 DAY 5
Pick you up from Taormina hotel to Mt Etna Volcano, one of the world's most active volcanoes and the most active one in Europe. We will drive to mount Etna through several Sicilian towns (Santa Venerina, Zafferana...) and visit some old lava flow on the ways. We will reach 2.000 meters (7.000 ft) where you can walk to visit the "Silvestri" craters (1986), the latest new lava flows and craters from 2001/2002/2003. On the way, we will also stop and visit a local family farm where it is possible to taste local Etna wine, a selection of natural honey (orange, lemon, eucalyptus, strawberry), almond pastries, olives, extra virgin olive oil. We then take you to one of the best known vineyards where it is possible to tour the wonderful property overlooking the sea and the volcano and taste some of their local table wine. Driving down from the mount through a wonderful pine tree forest, we will end the day with a visit of the charming village of Giardini Naxos (first Greek colony in Sicily) by the sea. Overnight in Taormina.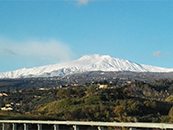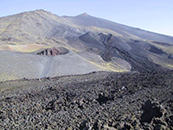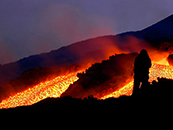 DAY 6
Pick you up from Taormina hotel to Catania airport and catch your flight.
What's Included::
English speaking driver/guide, taxes, toll, gas, room and board for the driver.
What's Not Included:
Hotels, Meals, Gratuities & Tips, Entrance fees, Local guide, Wine tasting, Complete excursion to the summit.
Important to know:
This tour is operated only with a Driver-Guide up to 8 people.
The Driver Guide is not a Licensed Tourist Guide.
Licensed Tourist Guide: are the only professionals, with a Regional license, permitted to conduct visits and tours in all sites and museums within a city and he cannot escort you inside the monuments because this is not allowed by Italian Rules.
It is possible to do the tour in reverse starting in Catania and ending in Palermo!